The Super Bowl is over.
Valentine's Day has passed.
The Oscars are coming!
And I've already seen some of 2023's new releases.
I guess it's time for me to make up my mind and share my list of favorite films from 2022.
---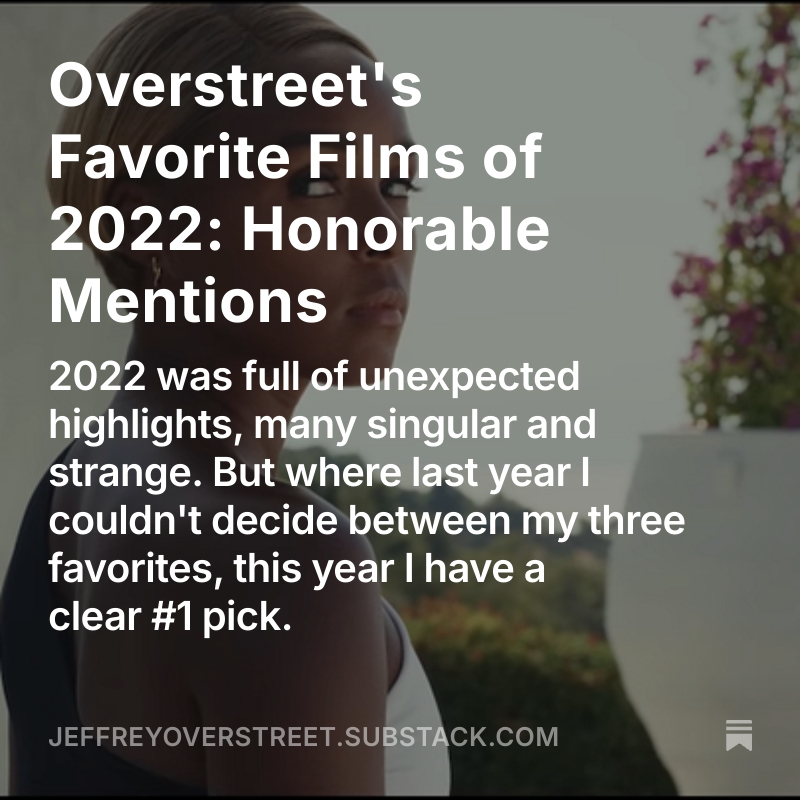 This post was previously published at Give Me Some Light.
Subscribe for free today!
Sign up for a paid subscription at you'll have access to even more!
---
As my longtime readers know, I don't like to rush things. I'm unwilling to join the circus of film reviewers who rush to post their favorites list in November, when there are still several weeks of movies that haven't yet been revealed. And even if I could see them all by November, I wouldn't have the time necessary for reflection, for reading others' perspectives, for (in some cases) second viewings. I like to give art time. Because there's so much going on in a good movie that isn't immediately evident. Thoughtful interpretations and assessments take a while to compose.
So, even though my opinions will continue to evolve, I'm ready to share the first of three posts highlighting the films released in 2022 that I found to be worth seeing and recommending.
2022 was full of unexpected highlights, many singular and strange. But where last year I couldn't decide between my three favorites, this year I have a clear #1 pick, great confidence about my Top Five, and after that it starts to get blurry.
Part One of this series — the "Honorable Mentions" — will be listed alphabetically instead of ranked. It's a long list of films I recommend highly, even if I didn't admire them enough to rank them at the very top. If you follow the links for each, you'll my first impressions, interpretations, and reflections in more detail.
And hey — why not post some information about your own favorites of 2022 in the Comments? What am I leaving out? What have I missed that I need to see?
---
A Hero
Director and writer: Asghar Farhadi
Farhadi's cinema is a moral X-ray machine so fine-tuned that his narratives leave me at a loss for words unless those words come from the Scriptures. And this film — is it worth saying :one of his finest" when so many are so great? — is no exception. It shows us the folly in exalting anyone's righteousness. When we make a hero of human beings, they will likely then suffer the kind of scrutiny that will expose their humbling faults — and that, in this world of reactionaries and bullies, might end up doing them more harm than good. Worse, the simplest act of goodness can be so easily exploited by others.
Love your neighbor quietly. And pray your love doesn't attract attention. It's blood in the water for the devil's sharks, including those within within your own heart.
Saleh Karimaei, the boy who plays Siavash, would have made Abbas Kiarostami weep. Farhadi knows the best way to break our hearts over the failures of adults is to place a child among them and let him watch, with dawning horror, how corrupt his elders really are.
---
Belle
Writer and director: Mamoru Hosoda
With animation so dazzling that it's easy to suffer through the movie's patience-testing duration, Belle gives us a clever re-contextualization of Disney's Beauty and the Beast. In fact, the homage is so blatant — especially in the design of the Beast's castle and the choreography of his turning-point encounters with Belle — that I'm surprised I haven't read about any tension between Disney and Studio Chizu. There is so much, light, color, and extravagance, I was often awestruck. And I recommend you see it on the biggest, brightest screen you can. But, as with so much anime, everything is so big, so overblown, so obvious, it's hard not to come away feeling that stronger writers could have made this a masterpiece.
---
The Black Phone
Director: Scott Derrickson
Writers: Scott Derrickson and C. Robert Cargill
It's so much more engaging, and it's about so much more, than most movies about serial killers, I was pleasantly surprised. … Contrary to what I might have expected from reading the early reviews, I like the young actors and how their performances gave this a surprisingly comic undertone throughout. Contrary to the approach of so many horror films, including Derrickson's own Sinister, the enemy is not made to seem invincible or awe-inspiring, but is actually something of a buffoon; The Grabber reminds me more of the Coen Brothers' approach to killers than other Blumhouse icons, and that's a good thing.
James Ransone FTW.
As a "period piece," this looks and feels just right.
---
Both Sides of the Blade
Director: Claire Denis
Writers: Christine Angot and Claire Denis, based on Agnot's novel Un tournant de la vie
We want freedom from control, but we can't stand the idea of losing our influence over others. Is the ache of heartbreak from the loss of the Other, or from the loss of the desire the Other has for us? This isn't a movie about love, really. It's a movie about phones and credit cards, and the charade of virtue we put on to seem noble until somebody takes our power away. We don't want to be told we can't. That's the hurt that shows us who we really are: utterly dependent. And, if we're not careful, spoiled rotten.
[For more substantial reflections: Darren Hughes' notes from Berlinale.]
---
Bullet Train
Director: David Leitch
Writer: Zak Olkewicz
I've been missing well-made action comedies. Since Edgar Wright moved on from the Cornetto trilogy, I've been wondering who would step up and seize the opportunity. Bullet Train isn't as strong as any of those three films. Wright's films earn 'A' grades on every count, while Leitch's film here is 'B'-grade on most counts. Wright knows how to sustain a very tricky balance: He can weave meaningful character development and thoughtful thematic exploration into his action, while also celebrating and innovating on genre cliches, and somehow avoiding irresponsibly gratuitous violence. Leitch isn't nearly as ambitious and doesn't seem to be as gifted — Bullet Train has some playful comments about luck and fate along the way, but there's not much to discuss afterward. What it does have is a feast of dazzling, tongue-in-cheek action sequences, and some very clever braiding of plots and subplots. As an exhibition of slick craftsmanship, it's consistently impressive and engaging.
---
Corsage
Writer and director: Marie Kreutzer
There are fleeting images of bodies of water here that I will remember more than anything in The Way of Water. And there is a quiet image of the Empress alone at a table holding a teacup that I find more striking than any image in the box office top 10 this year. And forget the dance in Wednesday — give us the closing-credits Krieps.
---
Cyrano
Director: Joe Wright
Writer: Erica Schmidt; based on her 2018 stage musical of the same name, which is based on Edmond Rostand's 1897 play Cyrano de Bergerac
Music: Aaron and Bryce Dessner
Notes:
I'm always impressed by Peter Dinklage. I'm always moved by this story. And the decision to switch Cyrano's affliction from a prominent nose to achondroplastic dwarfism works better than I might have guessed. But overall, the most interesting aspects of this were the Dessners' forays into making a familiar story into a big-screen musical surprising enough to move us all over again.
Here's Steven Greydanus's detailed review, which is so good it makes me want to see it again, even as it makes me content to recommend it rather than attempt anything so substantial myself.
---
Elvis
Director: Baz Luhrmann
Writers: Baz Luhrmann, Sam Bromell, Craig Pearce, Jeremy Doner
If you don't like Baz Luhrmann films, this won't change that. If you like The Great Gatsby and loved Moulin Rouge! as I do, you'll have a good time with this. . . .  This is the story of two men: one, addicted to gambling; another, addicted to attention. It's a tragedy for both, given the gifts evident in both of them. And, as dealmaking and showmanship are two of America's most notorious strengths, this shows you where it's all headed. . . . How long until Butler plays John Travolta in a biopic that gives a lot of attention to Saturday Night Fever?
---
Emergency
Director: Carey Williams
Writer: KD Dávila
Here's my full review at Looking Closer.
---
Emily the Criminal
Writer and director: John Patton Ford
Tense and efficient and surprisingly uncomplicated, Emily the Criminal makes for a suspenseful 90 minutes that feel more like 60 or 70. Shot with a lot of effective, tight, handheld close-ups, it feels immediate and convincing.
…
Aubrey Plaza and Theo Rossi are both very good here, and perhaps the best compliment I can give them is that they develop some impressive, engaging chemistry in very little time. I've been a big fan of Plaza since Parks & Rec, but I've been disappointed in the variety of movies she's been in so far. This feels like a giant step in the right direction.
---
The Eternal Daughter
Writer and director: Joanna Hogg
Some surprisingly Lynch-ian vibes here in what often feels like a low-key take on The Shining. A haunting whisper of a film, as ethereal as a wisp of fog blurring the moon. As one compelled — uselessly, really — with an insatiable desire to impart happiness to my parents, and often feeling that my efforts have backfired, I really feel this movie.Tilda Swinton: 2022 MVP. This is my second-favorite Swinton-Lost-in-a-Soundscape film of the year. Can this surprisingly enchanting new genre become a biannual event?
---
Glass Onion: A Knives Out Mystery
Writer and director: Rian Johnson
That's entertainment. And it's also therapy for those exasperated Americans who, over the last several years of insurrection, authoritarian narcissists, and billionaires-gone-bananas, have felt like they've been taking crazy pills.
I need to put my past misgivings about The Bloom Brothers and Looper away and admit that, at this point in his career, Rian Johnson is an undeniable force for good in the world.
And not just because he's given Kate Hudson her best role in 22 years. Not just because Edward Norton is fun again. Not just because we can put Antebellum behind us and be excited about the camera's love affair with Janelle Monáe again. Not just because this has several of the cleverest surprise cameos any director has ever pulled off (I mean, the flex this guy is showing off right now).
But because, as much of a three-ring circus of hijinks and fun as this is, it serves up so many meaningfully cathartic laughs about things that deserve to be laughed at. Others have already marveled at the seeming prescience of this film's script given what we're seeing in the headlines this week. But just… wow. I needed this movie so much.
---
God's Creatures
Director: Saela Davis and Anna Rose Holmer
Writer: Shane Crowley
Holmer and Davis … elevate this material, drawing out yet another extraordinary performance from the great Emily Watson (who doesn't get nearly enough leading-role work these days), and finding in Paul Mescal's performance some of the same chemistry of boyish charm and deep shame that makes him so magnetic in Aftersun.
…
[A]s an intense immersion in a persuasively constructed Irish coastal community, and as one of this year's several brilliant portraits of "women talking" (or, in this case, not talking) about men's violence, this is a film that will stick with me. And I'm delighted to find that these filmmakers eschew the prevalent cynicism about the role of faith in a community, showing it to have a powerful influence on those who refuse to cast their conscience aside for the sake of self-preservation.
---
Hit the Road
Writer and director: Panah Panahi
Here's my review at Looking Closer.
---
The House
Directors: Emma de Swaef, Marc James Roels, Niki Lindroth von Bahr, Paloma Baeza
Writer: Enda Walsh
For a movie about the soul-threatening perils of investing your love in a temporal thing, this film is a testimony to the near-miracles that become possible when we invest our love in temporal things. What awe-inspiring animation this is!
And yet, it's a film that most will find difficult to love, as we try to make sense of why the cast of characters are first manifested as human, then as rats (and other vermin), and then as cats. The deliberate unpleasantness of the tone is as abrasive as some of its characters' fabric.But I'm not one to write off a movie for making me uncomfortable. The unease of great horror is deliberately and purposefully cultivated, and can be a path to wisdom. I'm convinced that the storytellers are doing meaningful work here, but this is a tough trilogy to interpret with confidence.
---
Kimi
Director: Steven Soderbergh
Writer: David Koepp
Notes:
A high-energy COVID-19-lockdown take on Rear Window with a strong lead performance by Zoe Kravitz and a surprisingly non-cynical take on in-home technology and artificial intelligence. And I had a lot of fun seeing my city look so sleek and shiny as our hero dashes through it and dodges her sinister stalkers.
---
Murina
Writer and director: Antoneta Alamat Kusijanović
I've finally found a movie adaptation of The Little Mermaid that I love.
---
Nothing Compares
Director: Kathryn Ferguson
Writers: Eleanor Emptage, Kathryn Ferguson, Michael Mallie
Here's my full review at Looking Closer.
---
The Northman
Director: Robert Eggers
Writer: Sjón and Robert Eggers
Here's my review at Looking Closer.
---
Official Competition
Directors: Mariano Cohn, Gastón Duprat
Writers: Mariano Cohn, Andrés Duprat, Gastón Duprat
Imagine a more sophisticated version of Dirty Rotten Scoundrels, set this time in the world of arthouse filmmaking, with the two competitive rival Scoundrels being egomaniacal leading men with very different methods of acting. But this time, the woman they're both drawn to is in charge from the get-go — she's the director who wants them to act opposite one another as feuding brothers in a major motion picture, and she proves to be just as aggressively contentious as the two of them.
…
I miss comedies that remember to use the whole screen. I miss comedies that expect their audiences to be intelligent. I miss comedies that use silences and body language cleverly, instead of just delivering written jokes. I miss comedies in which jokes have two, three, even four stages of detonation.And I miss sophisticated comedy performances like these. All three leads are fantastic, and José Luis Gómez is particularly funny in a dry, subtle supporting role as Humberto Suárez, a multi-millionaire monster who, knowing he's hated for being heartless, wants to reinvent himself as a gift to humanity by producing a meaningful film based on a Nobel-prize-winning novel.But this is Penélope Cruz's show, above all, and she is sensational. I want to see her doing more of these ambitious comedies. Few actresses would be able to give a complicated performance in a wig as spectacular as this one, but she is glorious.
---
Prey
Director: Dan Trachtenberg
Writer: Patrick Aison
In this Predator prequel, which might as well be called Episode One: The Phantom Menace, the New Mexican Aubrey Plaza — Fort Peck Sioux tribe member Amber Midthunder — catapults to the front lines of action stars with a supremely confident and engaging performance and achieves what might be the most difficult thing to do in a Predator movie: She steals the movie from the alien and makes me want to see more movies about Naru instead of any soulless, roaring, extra-terrestrial bigfoot.
I approve. Since franchise installments apparently must be made endlessly as long as there is money to be made from the fans who are addicted to the familiar, why not spice them up with something thought-provoking? Why not ambush audiences with some aesthetic beauty and some provocative undermining of genre tropes? Why not do what you can to wake a few viewers up to how much better movies can be, and make a few a little more willing to loosen their ignorant assumptions about gender? Why not try new things?
P.S.
I mean, I knew Malick's The New World would be influential. I never dreamed it would inspire this.
---
She Said
Director: Maria Schrader
Writer: Rebecca Lenkiewicz
This is a much stronger film than the trailer or the early buzz led me to believe. Sure, it's somewhat formulaic. And yes, it's hard to make a film about journalists working hard to reveal the truth without having them say obvious things about truth-telling. We've seen so many of them. Spotlight may deserve to be celebrated for greater artistry (as does Dark Water), but I think it won its Oscars in part because of good timing and a long highlight reel full of flashy Oscar Moments (particularly one featuring Mark Ruffalo that had me cringing in the theater). She Said impresses me just as much, if not more — it's just as urgent and relevant, just as suspenseful (even if you know the story), and it never feels like it's straining to win awards. And while it's about one man who is now in prison, it's also about many, many other men who aren't — not yet, anyway. I wish I could convince everyone I know to see it and share it.
. . .
Now, I admit that I may not be the most objective critic on this film.I know quite a few women who are journalists. And I was caught up in a recent drama in which a powerful man pulled all the strings he could to silence many "she saids" that represented women who were very close to me, women I count as trusted friends and model of integrity. How could I watch this and not be aggravated, upset, inspired, and (if you will) evangelical about it when it's over? I'm thinking about how this film might (if anybody sees it) inspire others to fight for similar surges of truth-telling to overthrow other abusers in power.
. . .
What's best — She Said isn't a courtroom drama. It doesn't revel in the truth-tellers' victories. It's a journalism drama — a movie about work. It may not represent what life is really like at The New York Times… I don't know. But it doesn't romanticize what journalists do. While it abbreviates a great deal to fit the story into a two hour span (I'm sure this is a case of "The book is so much better," because of course it is), it represents the long hours, the hard work, and the cost to every aspect of journalists' lives. And, specifically, the sacrifices that many women in journalism make remain front and center.
---
Stars at Noon
Director: Claire Denis
Writers: Claire Denis, Léa Mysius, Andrew Litvack; based on the novel The Stars at Noon by Denis Johnson
As unconvincing as the political drama and intrigue of mid-'80s Nicaragua might be here, the film's focal characters touch something true: It's remarkable how much we will rationalize in our desire to be known, to be needed, to feel purposeful. When the world rejects what we have to offer, we might be surprised how many compromises we can live with if it means we get a taste of being loved… and of loving. Or of something close to that.
. . .
Denis is so patient, so focused on craft, so uninterested in anything conventionally "entertaining," so preoccupied with quiet rhythms, so attentive to capture moments of persuasive human expression. She knows what so many great filmmakers know: that there is no subject more enthralling than the face of a human being deep in thought. She has been prolific in recent years: High Life, Let the Sunshine In, Both Sides of the Blade. All of those films are compelling explorations and playful variations in her style and themes. I admire them. But this… this feels like a return to her strengths. It took me mere moments to relax into that rare feeling of being on an adventure with a master director, one driven by questions and intent on discovery.
---
The Territory
Trigger warning for survivors of religious trauma: You will watch as men pray in the name of Jesus for blessings upon their work, and then they will turn and chainsaw their way into what's left of the heart of the world; they will unleash hell on a vulnerable community; they will (allegedly) commit murder; they will render "law and order" meaningless so the natives have no one to call for help; and they will speak without any shame at all about God has given this land to them.To watch these cruel and compassionless capitalists slash and burn their way through so much Amazon rainforest beauty is harrowing to behold. (And it's made all the more sickening in that I'm watching my own country on the brink of surrendering control to the same kind of merciless, arrogant fools.)
---
This Much I Know to Be True
A perfect match of filmmaker and musicians.I saw Cave and Ellis live at the Paramount in Seattle a couple of months ago — a dream come true — and I'm still shook.
But where that was a rare case of a thunderous, rigorous, riveting communion between artists and audience — an experience that felt like a monsoon — this is an intimate journey into an private arena where artists are confronting cosmic questions, grieving unfathomable losses, and wrestling angels at risk of their souls. It's like watching spiritual warfare manifested as mixed martial arts matches.
In one sense, the film is about a unique and fruitful collaboration between two singular talents, but in another sense it's almost like Ellis is providing Cave with exactly the right sphere in which he can sculpt his anguish and his faith, giving shape to his unspeakable wounds and offering companionship and consolation to the lonely and desperate souls who write to him asking for guidance.
---
Three Minutes: A Lengthening
Director: Bianca Stigter
Based on Three Minutes in Poland: Discovering a Lost World in a 1938 Family Film, by Glenn Kurtz
I love Bonham-Carter, but her presence here was, for me, an odd distraction in an otherwise profound exhibit of curiosity, detective work, academic inquiry, visual experimentation, and moral vision. Short enough to show during a typical class period, it will become a favorite for professors and teachers intent on making sure new generations of students know that the Holocaust was real and that bearing witness matters. It's also an impressive display of finding a whole world in a grain of sand — or, in this case, three minutes of grainy footage.
---
Three Thousand Years of Longing
Director: George Miller
Writer: George Miller, Augusta Gore
George Miller's The BFG (for adults) with heavy doses of Terry Gilliam's The Adventures of Baron Munchausen and Tarsem's The Fall, and a tone that reminds me of Jean-Pierre Jeunet.I've now seen two new films in 2022 in which Tilda Swinton plays an eccentric who bonds with a strange man and, through an intimate touch, shares with him communal perception of other dimensions.
…
There's so much to enjoy all the way through. Swinton is Swinton-ing all over the place. … Elba, by contrast, is surprisingly otherworldly and yet affectingly human at the same time — an unlikely but inspiring choice for this character. The fantastical stuff gives us some glorious images I'm so glad I saw on a big screen, but the scenes that are just about Swinton and Elba in white terry-cloth bathrobes sharing stories in a hotel room are every bit as savory and delightful. I could have listened to them talk all night.
---
Turning Red
Director: Domee Shi
Writers: Julia Cho and Domee Shi
I appreciate how this one shows Pixar embracing animation less as an opportunity to dazzle us with how "lifelike" anything is and more as an opportunity to play. It's not as brave among Pixar movies as The Emperor's New Groove was among Disney animation features, but it has something of that film's recklessness. It also bears (AUGH!) witness to the influence of both Miyazaki and Aardman on the creatives — which is a good thing. And — perhaps best of all — it knows when to quit (something I unfortunately can't say about The Mitchells vs. the Machines, even though that's an unpopular opinion). It felt shorter than its hour-and-40-minute running time.This is a promising move in a new direction for a studio that has, for me, lost something of its magic over the last three features.
---
We're All Going to the World's Fair
Writer and director: Jane Schoenbrun
A re-imagining of one of horror's most fundamental texts — the confrontation between Clarice and the behind-bars Hannibal Lecter. But in this case, "Casey" – the film's Clarice – is trying to find the clues she needs in order to track herself down, in order to find out who she really is and how to cope in a world that has forced her into isolation. And "JLB," who we're conditioned to assume is a Hannibal Lecter just waiting to feast, is actually just a lonely guy — one whose strategies are dangerous and, for some, ultimately destructive.
But as "Casey" comes to JLB needing guidance and attention and affirmation, the other recognizes something in her, and the intimacy that forms between them transcends the templates of horror and becomes a rare and inspiring example of how Love Your Neighbor breaks down binaries. The game can go wrong depending on how it is used, but it can also become a language through which we cultivate real and redemptive relationship. And the game master is not a monster after all. I can feel the good in him.
Here's to a "horror" film that isn't about perpetuating horror by endorsing coercive violence against an Other, but rather seems to have a genuine interest in the cure for all horrors.
---
White Noise
Writer and director: Noah Baumbach
Based on the novel by Don DeLillo
Is White Noise Noah Baumbach's most hopeful film?
I'm not sure. But it's certainly his most imaginative and ambitious. He's pushing himself beyond his comfort zone into a very discomforting world of clashing modes and tones: chaotic Altman-esque family activity; Coen-Brothers-esque quirky supporting characters (the doctor, the mad TV-wielding prophet); Coen-Brothers-esque dark prophecies (a la A Serious Man); truly bonkers higher-education satire (Were college professors really this insufferably theatrical in the early '80s?); prophetic grim comedy (the traffic crashes and Millers-vs.-the-Machines family-car-in-slo-mo-flight); Marriage Story drama; and… sudden bursts of song and dance?!
---
The Woman King
Director: Gina Prince-Bythewood
Writer: Dana Stevens
Very surprising.
The lead performances are stronger than I anticipated: Davis as the general Nanisca, the strong hand of King of John Boyega's King Ghezo, is a more inspiring leader than Viggo Mortensen's Aragorn, Chris Evans's Captain America, or Mel Gibson's William Wallace. But I'm stunned to find myself wondering if her performance is the strongest one here: Both Thuso Mbedu (as the young trainee who is arguably the lead) and Lashana Lynch as Nanisca's fearsome and charismatic "power forward" Izogie are compelling whenever they're onscreen.
The violence is more visceral and chaotic than I anticipated, riveting in its energy and in the ways that dance in incorporated without disrupting the style/substance balance of the battle scenes.
And the weave of character arcs is more complex and affecting than the trailers hinted at.
---
The Wonder
Director: Sebastián Lelio
Writer: Emma Donoghue, Sebastián Lelio, Alice Birch; based on the novel by Emma Donoghue
Here's my full review at Looking Closer.
---
To be continued!
Check back for the "Runners-Up" post and the Top Ten over the next few days.
Or, subscribe to Give Me Some Light and access those posts right now!
Related